Oh, boy!
Sunday, February 03, 2008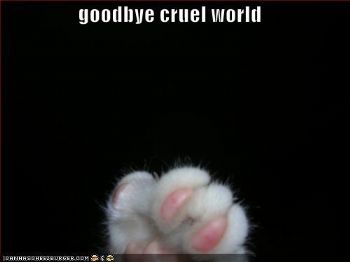 What?!? I know you've seen that picture before. I like to recycle : )~
Last night did not go as well as expected. I had fun. The night ended with Steve & I wandering the streets of Columbus looking for our car. That was NOT fun! I was freezing my a$$ off in fish net stockings & that body thing that was marked down to $7.00. I met some really cool chics though. Leave it to me to wait until I turn 30 to wear my first pair of fish nets. The 3 girls that I met called us the 1/2 naked chics. Lol! Misery loves company.
So we stood inline for 2 hours & still missed the concert. (Too much Vodka!) It was worth it though. I met 3 new people & had a freakin' blast in line. So, whose crazy idea was it for me to wear fish nets?? Oh, my own, huh?
Alyssa- "Mommy, rich people pronounce elephant, "Elephunt".
Am I surprised that my child is so crazy?? Well, no. The acorn does not fall too far from the tree.
She quit Girl scouts due to a Catty neighbor Woman being bitchy toward her. Oh, yeah. We are so going tomorrow night & I am gonna let her know how I feel. She & I used to be friends before my weight loss. That is her own insecurities. She will not bring me down : )
Crazy hang over today. I need to remember this one & learn from it.
Guess what?? I am rewarding myself with a new Digital Slr camera. Qvc has great deals. I love taking pictures. Alright, I am positively exhausted & gonna take my crazy butt to bed. G'night Sparkly people.