My hair is shocked!
Wednesday, January 23, 2008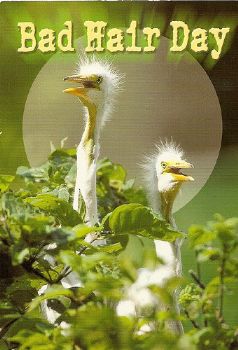 Oh, that hairstyle is soo outta date!
I have about 8 billion & 3 things I have decided to do with my extra day off. How many things can 1 person accomplish with just 1 extra day off?? Oh, just watch me!
Ever notice after a hair cut how your hair goes into shock?? Almost depressed even! Mine, decides when I curl it that it wants to re-visit the 1980's do. Good news Kroger has half off John Frieda & Nexxus products. Well, it is Steve's fault if I could just place blame for a second. He pouted when I wanted to Dye it. My hair needs a little Chemical romance to feel normal. Ahh, screw it. I'll dye it tomorrow & just go in & play the part. I say some heavy eye liner, teased hair & hot pink eye shadow will help me feel more comfortable.
Gonna have to change my profile pic! Makes me miss the hair I cut off. Once I get some color on it & it will alow me to style it without looking freakish all will be fine.
Did I really just do almost an entire blog on my haircut?? Oh, I am going to bed! Lol! RIP, missing hair!