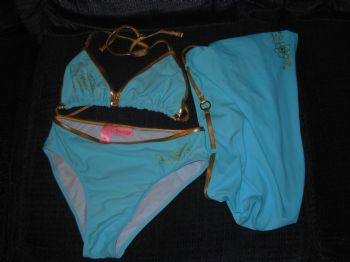 Sure it Fits, but things need to be in alot better shape before I go out in public in that. You know things have changed when your Hubby cant drag you away from the Bathing suit department. I had him take a picture of me in it so I can see how much progress I have made in June. I have to do things like this & play with my diet to keep things fresh so I dont get bored. Dangerous when I get bored! So, am I gonna post that picture?? HA!!! Not on your lfe!
One of my good friends on Spark mentioned she has struggled with her weight for 10 years. I have, too. I did not even realize that until she said something. The moment I had my 1 child my metabolism played a Rip Van Winkle on me. Last February, I woke it up.
Went swimming today. Green Bay just scored!!!!! YEAH!!!! Field goal! YES!!!!
Okay, so I kinda went swimming today. Heat pump or something in the pool was not working. We made do by swimming & exercising in the Hot tub which was the temp that the pool usually is. People were looking at me like I was nutz (you can see the pool/hot tub from lobby) while I was doing water weights & water dumb bell, crunches & all the 150 billion exercises I do there.
The bubbles from the warm hot tub added to the resistance. I got alot of exercise. Alyssa had a great time. We pretended that we were on an abandoned island. Kids normally are not aloud in the hot tub, so how cool is she?? Dont tell her she already knows! She entertained the locker room with non-stop singing in the Shower. Oh, Child of mine, what on Earth am I gonna do with you?? She seems to have developed a mysterious illness & it is taking an hour to write this. Good to know she still needs me at the ripe old age of 10. Yeah, 10. She is up to my eye brows now. SHOW OFF!! With those long legs. I am practicing Base ball for when the boys start coming around. I'll have practice hitting balls = : ) Oops, my horns are showing.
It is a cold, cold evening here! Great snuggling weather. Steve made his famous Chilli. We have a baby sitter.(in about 20 minutes at least) Watching Green Bay game. No School tomorrow or Tuesday! I have help from the Intern, thank goodness!
I am excited about my progress. Will fix my blood pressure issues. Excited for the Spring. I stopped volunteering at Slate run farm due to not being able to find clothes to fit. Will not be a problem this year. I am going to time how quickly I can get dresses. It took about 45 minutes to an hour to find something to wear. I am excited about 2008. So, many changes, so little time : )