That's All You Had to Say
Friday, January 04, 2008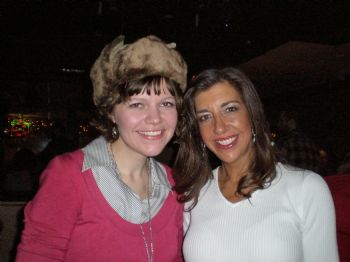 I've settled on a new goal weight range. I had been maintaining around 152-153. My new range is 157 give or take a pound or two.
For months people have been telling me that I am too thin. I even had a guy walk up to me in a bar & tell me it wasn't healthy. Geeze. Anyhow, I don't like that too thin look, but I was skeptical when the comments came from folks who knew me when I maintained in the 165-170 range... I figured they were used to seeing me a certain way and just hadn't adjusted to the leaner look. I did have a good friend, who did not know me at the heavier range and who is very health & body conscious, tell me that I should put on some weight. Because he did not have the bias of history, I thought perhaps folks were right.
So, Saturday night I was at a going away deal for my sister (that's my sister above...she is relocating to Montana...I bought her the hat as a joke.) Anhow, that week I had several people tell me how old they thought I was...and it was MUCH younger than I am... a decade plus. I was telling my sister it was a good week for my ego. :) She said, well, the extra 5 lbs looks good on you and you look younger. Holy smokes!! 'Nough said!
Vain? Maybe, but who doesn't want to look younger (except for people who ARE young and look like kids)? And hey, I can eat a little more.... doesn't get any better than that!