Ugly Betty has gone to a better place!
Friday, October 17, 2008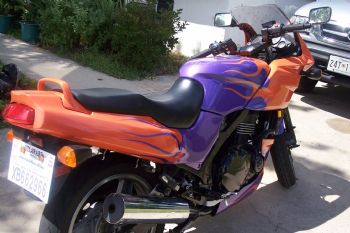 So I finally did it last night... I sold the little Ninja. I've battled with this for a while because I like that little bike and its been great for letting people practice on. However, it mostly just sits in the garage while the other bikes ride in and out around it. I had some guilt about owning too many things and not making use of them.
A couple of months ago, I had a father and son in my class. The son was only 16 y/o. Very cute, nice kid and rode like a natural. When they finished the father bought a low-rider and loves it. The son needed a bike. I introduced him to Ugly Betty (so named by my workmates) and he fell in love with her (orange is his favorite color) and started saving money to buy her. This week I got a call that it was his birthday and his parents were throwing in the rest of the money and wanted to surprise him with the bike for his birthday. So, I rode it down to them last night - all geared up in my Harley helmet and full Harley rain gear (of course not one drop of rain fell just because I was prepared for it.) I didn't get to be there when they gave it to him. They promised to send pictures. It was cool though, knowing that I was part of making this kid's dream come true! And Ugly Betty, or whatever he calls her, gets to be a real bike and get ridden regularly and loved.