Virtual Walk-somewhere in Grand County Utah
Saturday, October 11, 2008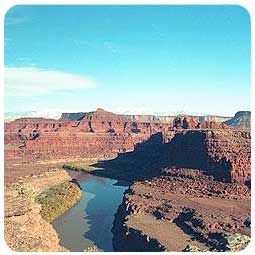 10/11/08 Grand County Utah
It's been awhile since my last blog, but, even in my silence, I'm still making progress on this virtual journey from Eagle, Idaho to Santa Fe, NM. The journey is 993.6 miles and I began walking the distance in early June. Today, I have logged 555.9 miles. There doesn't seem to be any cities around so I must be in the middle of the Utah desert - just north of the Arches National Park. My route will take me through southern Colorado and will try to blog once I'm in that area.
In the meantime, I have hit my weight loss goal! I have lost 25 pounds since April and am now balancing my maintenance program. Although I have lost my excess weight, my fitness goals have not been reached. My short term goals are to develop my upper body strength so that I can do push ups and pull ups and continue my cardio until I can run for 30 minutes non stop. I'm even toying with the idea of taking Pilates classes to workout on the reformer - something that has intrigued me lately. Funny, one goal reached and several others opened up!
Keep moving forward.