Sunday Evening Walk
Sunday, September 14, 2008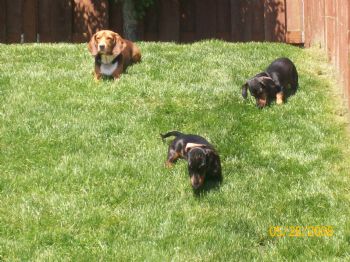 This is the icon that best fits how this evening walk made me feel. There's a new area being developed a couple of blocks from our house. I put the leashes on the boys (dogs) and out we went. Once we actually get into the new area back there I can take the lead off Skittles and he's free.
At a corner, there's an area that works its way down onto a path that goes through some woods. There are mushrooms growing that look like little houses and everything. It's just an overload of smells for the boys. Needless to say, during our time in the woods I try to let them just enjoy themselves ~ and they do!
Once we come back up out of the woods, Skittles still stays off lead. By this time he has the "gigles" out and is just interested in "working." I take this time to practice halts, downs, heels, etc. while still letting him have fun. Since he's a dachshund, his nose is always going. During one stop, Skittles got out in the clover that was over his head. Did I say that Skittles is a MINI dachshund? LOL! The only way I could follow him was to watch the clover moving! He came back out and we continued on.
We started the day with Rally class and ended the day with a wonderful walk. There really couldn't be a better beginning or ending.