Return Diving to Oklahoma High Schools
Tuesday, August 05, 2008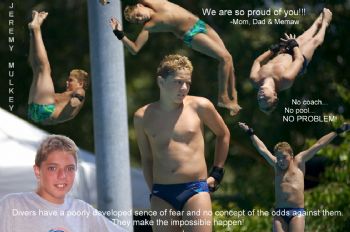 Hello,
I am writing to you about a subject very dear to my heart. My son is a freshman in high school, and has been diving with his junior high for the past 2 years. After the state championships last April, the OSSAA (Oklahoma Secondary Schools Activities Association) voted to remove diving as a sanctioned sport in Oklahoma High Schools.
This decision will deny my son, as well as many other young athletes in Oklahoma, the opportunity to represent his High School in the sport he loves. It will also deprive him of the chance to earn "All-American", which is highly looked upon when colleges begin recruiting.
My son, as well as many others, have been active in diving from a very young age. Some have been nationally ranked, and even competed internationally. Many are very serious athletes, and have always desired to represent their schools, just like all other athletes, in the sport that they love and excel in.
Please take a minute to connect to the following link and show your support for these talented young athletes by signing a petition requesting that the OSSAA continue to offer diving as a sanctioned event in the Oklahoma High Schools.
www.thepetitionsite.com/
petition/106621377
Our children thank you for your support.
tjbullfrog
Oklahoma Diving Association
Sooner Diving Club