My New Haircut
Sunday, August 03, 2008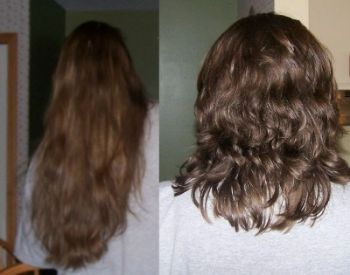 Even though I have lost almost 70lbs, I promised myself when I lost 50 I would get a new haircut. I was to big of a chicken until this weekend lol and it still took alot of people to talk me into, with special thanks going to my hubby and my super cool brother-in-law for giving that extra little push and encouragement!
I have had long hair forever, and well with little kids and being busy all the time, I wanted something very low maintenance and that wasn't falling in my face ever 5 seconds. My main hairstyle since having the girls was pulling it straight back and into a ponytail. Anymore, it was making me feel all blah and frumpy having it pulled back all the time, so I knew I needed a change.
I am happy to say that I love my new haircut! It feels like I have lost an extra 20lbs lol. And best of all I can just wash it and go!
I had a little over 13 inches cut off and I donated it to a local hair loss place for children who provides kids with free wigs until they are 21. So not only did I get a makeover of sorts but was able to help someone out along the way!