Mom and Me!
Sunday, August 03, 2008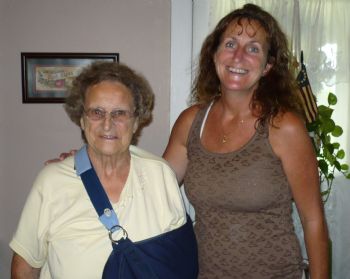 My mom turned 81 yesterday! I was lucky enough to get to have tea with her and hang out a little bit in the afternoon.
I wish there were some way to convey how fantastic and courageous and wonderful this woman is! (She was a warbride, don't ya know?) Or how lucky I am that she is my mom and the grandmother to my kids and about 40 others (don't even ask how many great grand children!)! It would take a book to tell you about her life and the hardships and challenges she's encountered and about the honorable and diligent way she's met each of those challenges. And what a great example she is for young woman and middle aged women and older woman! And how she's given so much when she's had so little and how she's enabled so many people to go so much further, all the while, remaining so humble and so noble. Or how many people have a deep and abiding love for this woman. My best compliment is when someone recognizes me as one of Mona's girls!
She fell in the shower last week and broke her wrist (area). The surgeon had nothing but bad news as a prognosis. However, after surgery, he couldn't believe how "lucky" she turned out to be... He had no idea that she's got God's special attention and that he was only secondary player in that situation. She'll get her cast off on September 2.
During the afternoon, we were talking about family and kids and aging and stuff. She mentioned that she's starting to "feel old." What an awesome woman! She remains my inspiration!
So... happy birthday mom!!! And, I hope, for me.... many many more!