Sparking My Creativity
Tuesday, July 22, 2008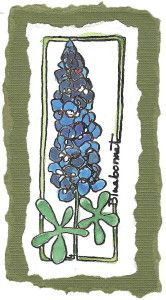 Thankfully, I don't think I've done any major damage to my knee. This (scary) incident led me to dig out my physical therapy exercises . . . I need to make sure I'm keeping the supporting structure strong. One more injury and I'll end up with that reconstructive surgery my doc promised. Frankly, I can think of lots of things I'd rather do than have another knee surgery.
Aside from the knee thing, my half-day of vacation was lovely. My stylist, Raymond, finally realized his dream of opening his own salon and this was my first visit. It was a quiet day in the salon, and we chatted for nearly 2 hours as he worked his magic on my very big and very curly hair. (I may have lost 5 pounds from the haircut alone.)
During our conversation he told me to bring some of my hand-made greeting cards (a watercolor example above, made from Joyce Meyer's gorgeous stamps) and some of my pearl jewelry to put on consignment. Jewelry is hit-or-miss, but he's sure the cards would fly out of there - especially around the holidays. Wow. I'm excited - I love creating, but get discouraged by the lack of an outlet for getting rid of said creations. This would be a fun way to have my work go to someone who actually wants them.
I left the salon today with a new look and a new outlook. I'm about to be actively creative again!