Great Strides at Agility Tonight (07-14-08)
Tuesday, July 15, 2008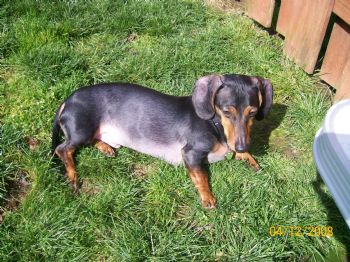 Well, we've been away from Agility for two weeks. I didn't know what to expect when we returned tonight, especially since Skittles still has his left front foot still wrapped. (He popped one of the stitches from 06-30-08 to remove a growth on July 4th.) Well I'll be jiggered! LOL!!! He ran that course with soooo much energy. I didn't think he could do that either. For a mini dachshund he really attacks the courses. Then we got to the teeter. Before the break he was going up the teeter and we'd have to help it go down. Tonight he RODE THE TEETER ALL THE WAY TO THE GROUND, not just once but more than three times. (Running two dogs is exhausting and you tend to lose count of things!) I don't think I've ever been more proud of him.
Then we had Baxter. Now I usually have to leave him on the lead the first go around because he's so cautious. He just never knows what's out there to get him, ya know! Part way through the course the 1st time he really came alive and finished strong. Second time through I ran him off lead. HE WAS AMAZING! After the A-frame he made a great u-turn to a jump and then another. He was running, smiling, and wagging his tail. When it came to the teeter, not his favorite, he went up with LOTS of coaxing but at least he didn't bail. In addition, one of the ladies there was sitting with me and watching whichever dog I wasn't running at the time. Baxter was sitting with his back to her and letting her pet him and wagging his tail. This just was NOT like Baxter. He's afraid of EVERYTHING!!!!!
To top it all off I was able to get 6,000+ steps in today. My goal for now is at least 6,000 and then I'll work it up to 10,000+.
If I could have done with out work and my DH (at least for now) it would have been a perfect day. Oh, did I mention that the actual day itself was wonderful too?
During Agility, one of the ladies' daughters' Nicole, was taking care of Jack. Jack's around 9 mos now and still a little hesitant around other people. He managed to survive and was none the worse for wear.
If feeling good burned calories I'd have gone through quite a few this evening!