The Snozzberries Taste Just Like Snozzberries...
Thursday, May 29, 2008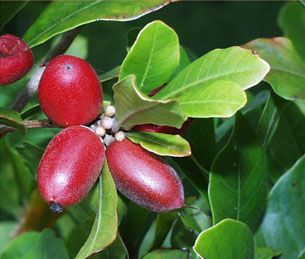 Imagine if you could make all the foods you dislike suddenly taste like something you actually like to eat. Or that you could get vegetables to be as appealing as chocolate cake. (Actually, depending on the vegetable, I might choose veggies over chocolate cake!)
In New York, there's a new trend that warps the tongue: Flavor-tripping parties. Not to worry -- there are no psychodelic drugs involved, just a berry called the "miracle fruit" for its ability to rewire the taste buds for 30 minutes to 2 hours. Sour and bitter flavors become sweet, thanks to the berry, which is native to West Africa. It's the strangest food discovery since Willy Wonka's lickable wallpaper (from whence my blog entry draws its title). I first read about it in
this New York Times story
.
The story doesn't address the effect the berry has on smell, which is perhaps a more important sense than taste when it comes to eating. If you eat an onion and it tastes like an apple, what does it smell like? I'll investigate online and report back.
What food would you want to try at a flavor-tripping party? For some party-goers, goat cheese became cheesecake, Tabasco sauce morphed into hot doughnut glaze, and vinegar changed into apple juice. (And sweet food pretty much stayed the same!)
So what do you say? Would you try a miracle berry?
I'd try bean sprouts, the one vegetable I loathe.