Restaurants and calorie counts
Wednesday, May 07, 2008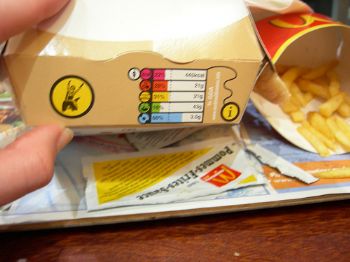 Did anyone else read
this article
? Five restaurants in Manhattan have been cited for not posting calorie counts next to prices.
I like the idea of disclosure and awareness on behalf of the consumer.
But do you think that calorie counts mandatory help keep a society slim?
In France, the nutritional content is listed on your fast food box, cup or wrapper. (After one too many glasses of champagne the night before, my little sister was craving Coke and a burger when we were in Paris last spring.) Right away, we knew that her burger contained 445 calories and 21 grams of fat. Sorry, my camera didn't seem to want to take a clear shot of the label. It also lists carbs, fiber, sugar and couple of other nutrients. From the fries to the Coke, we knew exactly how much we were eating.
(I think what my sister ate was like the Big and Tasty, which has 510 calories and 28 grams of fat here. Like many other things in Europe, the sandwich and other serving sizes were smaller, more like a Big Kids meal here.)
Would you like to see calorie counts on your fast food and restaurant menus? Or, if you live in a place where it's already mandated, what do you think about it?