She Always Told Me the Truth ~ Even If It Hurt
Sunday, April 27, 2008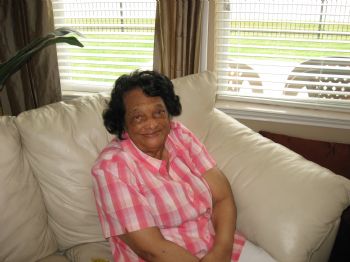 It's my Grandmother.
At 5'1" She has always been a force to be reckoned with. Demanding respect from her family and living a life of dignity. I never heard her lie or mistreat anyone. She gave all she had to help her family. When she walked in a room "us kids" stopped what we were doing to get her instructions. She was not to be played with! My grandmother has always been there for me. When my mother (her daughter) passed away in 1984, I thought I would never get over it. She was the one who stayed up with me at night when I could not sleep. I have hear her many times praying for me and my other family members. She has been at every major event in my life - several graduations, wedding, new house, baby! When I needed to be "talked to" she would LET ME HAVE IT! She has never held her words. She would SET YOU STRAIGHT! She has had discussions with me about my weight many times (unfortunately). She has taught me more than any other person about what it takes to make it in this world. When she is visiting with me, it is an honor for me to cook for her, help her move from room to room and to comb her hair. Thank God he put her in my life. To sum up everything she has taught me would take too many posts.
But here are 4 things:
1. Always trust God and yourself.
2. Life is what you make it.
3. Don't allow anyone to mistreat you... you can do bad all by yourself. You don't need help doing bad.
4. One thing no one can ever take from you - that's the education you put in your head.
On December 25, 2008 my grandma will be 95.
WHO HAS ALWAYS TOLD YOU THE TRUTH?