Sept 29th Phoenix
Monday, September 29, 2008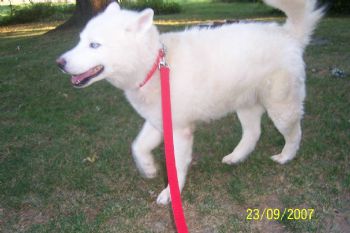 This is our beautiful, filled out Phoenix! He eats about 6 cups of food a day, loves to go on short little trots around the yard and wants to chase squirrels up trees! He is healthy and energetic although his energy comes in spurts and then he goes inside and runs back into his crate, grabs his favorite stuffed duck and lays down and goes to sleep for a few hours.............I dont think he will ever have the stamina or strength to be like a typical husky (go go going all the time!) but his spurts of high energy is great to watch after all he has been through..........
Our husky hike to earn funds for the North West Husky Rescue Organization is this coming Saturday and we will be attending and taking Phoenix and Tu as they have become pretty good little friends!
He has scaled his crate twice now to get into the room with the other dogs and we were so afraid he would be hurt so we have put another crate on top of his to block the doorway.............Now he gets to go into the rooms with the rest of them only on our supervision as shadow has not warmed to him yet and Phoenix is in the "marking territory" phase of his boyhood now..............The first of November we take Phoenix back to the vets to get a chest x-ray done and another heartworm test done and to see how he is doing. Hopefully we will then be able to set a date to get him neutered..............
I apprieciate all of you so much-this has been one of the most rewarding experiences I have ever had but also the most heartrending and knowing what I know now-that this could have gone the other way and we could have lost him, I still would do it all over again and probably will...................The next time I will be adopting the "rescue" out (no, I really mean it this time guys-why dont you believe me! :) ) My husband and I have made a decision that in order to pay back some of the love and enjoyment we have gotten from our pack of sibes, we will try to adopt one a year and get it healthy and happy and "gift" it to a good "husky" home. There will be no charge to adopt as our gift to huskies is to pay the fees and medical bills for that dog and then to pick out the best home we can (knowing it will have to be with either a person that has had a husky or one that is willing to truly believe all the problems of owing one and is still willing to take on the full responsibility of a sibe's care) The two stipulations we will have is if they can no longer keep the husky it has to be returned to us and they need to make a $50.00 donation to a husky rescue organization of their choice..................
So this is where Phoenix's story of his terrible struggle to survive ends.
There will be updates on his condition after his November vet visit and if any other illness or problem occurs............Otherwise the rest of his "happy tail" will be about his adventures into the world of being a "normal" sibe (if there is such a thing!)