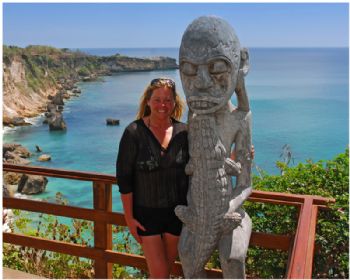 Hello all!! I am so happy to be back home and I am looking forward to jumping back into my routine very soon, I miss it! We had the best time on this trip, and it was better than we expected. It was hard coming home to the cold temperatures of Russia after being in such warm weather for nearly 3 weeks.
Where to begin! This trip was one of our favorites! It was both active and relaxing. On some days we did nothing but swim at the beach and get spa treatments, then other days where filled with activities. To us this was the perfect combination! We started off our trip on the island of Koh Samui in Thailand. For those who may not know my husband is half Thai, so Thailand is one of our favorite countries we have visited in the past, but we were excited about exploring a new island. We stayed at a small, modern boutique hotel called New Star Beach Resort and it was just perfect. It was quiet, away from the crowds, but close enough where you could get into the town within a few minutes. I loved the funky modern feel of the resort and the combination of a Thai and Asian spice added to it. We visited 4 islands in Thailand, Koh Samui, Koh Tao, Koh Nang Yuan and the national park located on Khao Sak. Koh Tao and Nang Yuan were two of our favorites and were amazing for snorkeling! While in Thailand we hiked at the national park, went sea kayaking in caves, rode an elephant and went snorkeling a couple of times on 3 islands. As far as islands go, these were some of the best we have seen in southern Thailand and we can not wait to go back!!
Now for the fun part...the FOOD!! Those who know me well know that I LOVE Thai food! So it was hard for me to not just dive in an consume all that was around me. I did well. I ate mostly soups and of course my favorite spicy Papaya salad ( Nita, wish you could have been there to share it with me!) I did have a treat...or two...or three.....ok who is counting, I had several..haha!! My one treat was a favorite of ours, mango and sticky rice with coconut milk, oh my word it is good!!! The biggest temptation was all the fruit. I know that sounds funny but fruit can really pack on the calories and when you have been living in Russia where exotic fruit is hard to come by you can get carried away! I indulged, but I watched my portions. Oh the guava, pineapple, dragon fruit, papaya.....it was SO good!
We had an interesting development take place while we were in Koh Samui. Three of the airports in southern Thailand shut down because of the protesters and all that was going on with the governmental crisis in Bangkok. We were concerned because they were threatening to close down the Bangkok airport to make a statement and Thai airways was going to go on strike as well. We did not want to run the risk of being stuck in Koh Samui and missing the rest of our trip in Bali. So we changed our flights and left Thailand one day early and flew to Bali. We figured it was better to be safe than sorry!
Ok, now onto Bali! How beautiful is this island!! When you first arrive you do not see the Bali that is in all the travel magazines. Where were the volcanos? Where are the cliffs and beaches? I found that in Bali many of the picturesque places are a bit of a drive away and you have to really know where to look. If you just base your impression of Bali on the airport and nearby Kuta beach you will miss out on the many hidden gems this paradise has to offer.
The first resort we stayed at was the Ritz Carlton which is located on the cost and surrounded by cliffs, it was beautiful. There was a private beach, which was a blessing when you see how crowded some of the other beaches there can be. The resort is massive and the grounds where so lovely to walk along, it was like you were in your own little paradise! The resort is isolated from the busier areas of Bali but we were able to take a taxi into town to shop and look around. The Kuta area is very commercialized - Starbucks, Hard Rock cafe, the works! Very different from Ubud and eastern and northern Bali which has a completely different feel all together.
During our stay on the coast we toured a few of the outer islands of Bali and went snorkeling, which proved to be even better than in Thailand and that says allot! We saw coral and fish that we never imagined, it was like a sea full of colors and fish that were both bizarre and beautiful. Bren (Mom in Garden) you would have LOVED all of the floral patterns of the coral, it was like an underwater garden! We took a ocean rafting tour which was very exciting and along the way watched dolphins swimming. We went to see the famous Kecak dance or Bali Fire dance at Uluwatu which was really interesting and the setting along the cliffs at sunset was quite romantic!
After our stay along the cost we moved into central Bali to Ubud. This was a completely different experience. Ubud is the cultural hub of Bali and was my favorite areas by far! We stayed at was the Como Shambhala Estate, which is a health and wellness resort and was quite isolated and is set high above the Ayung river. This resort was nothing short of perfection. Not only is the location dramatic, but the resort itself was incredible with the selection of healthy foods, fitness programs and overall wellness activities. They have specialized treatments and therapies as well as full retreats for special guest such as Rodney Yee who will be there in November for a Yoga retreat. We were amazed with this place in every way! The spa here was one of the best I have seen. It was set along the cliff in a villa with the river below you, this was a highlight for me as I love spa treatments but this was like nothing I have experienced before. You have not lived until you have had a mud wrap in the jungle! Ha! As you wind down the resort to the Ayung river below there were natural spring pools and bales to lay in while you looked out into the jungle and listened to the roaring river below. The photos we have do not really do justice to this place, you just have to be there to understand it. The sights and sounds consume you and you really do feel as if you are in heaven.
The food in particular was delicious and very healthy. They had a vast menu with vegetarian, vegan and raw dishes, and of course some meat dishes as well. The juices were to die for! Fresh mixtures for whatever condition or treatment you were needing. They had some for Liver detox, Muscle recovery, Cold and flu remedies, Immune system builders and the list goes on and on. We had quite a few of these! I loved one that had Ginger with cayenne pepper and apple!
We went white water rafting on 2 different rivers, that was SO much fun! The most amazing thing that we did was the resorts "Biathlon" as they call it!! We started off in the early morning and trekked for 2 hours through rice fileds and the surrounding jungle to arrive at one of their sister resorts more towards the center of town. Then from there we got on mountain bikes and biked through the jungle and rice fields for 2.5 hours!!!!! This was hard, but so incredible! We would stop and look out at the peaks and it seemed as if it was all a dream. Some of the hills like to kill me, but I pushed through.....and yes I wore my HRM!! I burned almost 1,600 calories on that trip and it was the best workout because I was out there taking in the amazing scenery and I felt so alive. After we returned to our resort I put on my goggles and went swimming laps...oh yes to make it a tri!!!! Megan and Margaret I though of you guys! I only swam about 250 - 300m but it was a blast!!
We ended our trip in Singapore for my husband to have a business meeting. This was a real treat for me as it is one of my favorite cities and it was good to be back! Then it was off to Russia and back to reality!!
While on our trip I had several really great workouts! I mostly ran and lifted weights. I wanted to wear my HRM more on some of our treks but we were also swimming so I left it behind. But for the days I worked out and wore my HRM I burned right under 3,600 calories. Not as many as I wanted to, but if I think about all the activities we did where I did not wear my HRM, I know I was burning it up big time!!
When we arrived home I tried on some of my jeans and clothes to see where I stood and they fit better on my now - just after flying - then before we left! I think I may have lost some weight on this trip, funny I know, but we were always going and going and I really watched my eating, so maybe I did!!!
All the hard work payed off big time as I was able to relax and enjoy my trip and not worry about how I looked all the time. One thing that I did realize is how many activities I was able to do that I know for sure a year ago it would have been impossible!
Now it is time to move forward and look towards the next goal. I am leaving again in 3 weeks to go back to the US to see my family and to visit Miami and take a cruise to the Bahamas. So I do not have allot of time but I do have some goals I would like to reach before we leave.
1. Loose another 2 inches
2. Burn at least 3,500 calories each week
3. Strength training - 4 times a week - split program
4. To get 3-4 cups of green, white or red tea in a day.
5. To NOT count my calories or deficits....this is a new thing for me! My focus will be on working out and eating 5-6 times a day as I normally do but no logging. It will be test for me as I have been logging now for a year and a half. I will be focusing on eating clean foods, and trying to get in as many raw foods as possible.
Workout Plan starting September 21st - 28th -
Sunday September 21st -
AM - 60 min walk/run outside
PM - ST - Back and Biceps followed by 45 mins of treadmill incline pyramid walk/run and elliptical combo.
Monday September 22nd -
AM - 60 min walk/run outside
PM - ST - Chest, Shoulders and Triceps followed by 45 mins of treadmill incline pyramid walk/run and elliptical combo
Tuesday September 23rd -
AM - 60 min walk/ run outside
PM - Cathe Butts and Guts dvd
Wednesday September 24th -
AM - 60 mins of Power Yoga DVD and balance ball Pilates dvd
Thursday September 25th -
AM - 60 min walk/run outside
PM - ST - Back and Biceps followed by 45 min run
Friday September 26th -
AM - 60 min walk/ run outside
PM - ST - Chest, Shoulders and Triceps followed by a 45 min run
Saturday September 27th -
Rest day!!
I just have to finish by saying how blessed I was to come home and see so many emails and comments from so many of you. I was excited to see how many new spark friends I made while gone and I look forward to getting to know you all better. Some of your emails really touched me in a special way, there were tears! It is amazing to me that I have never met any of you and yet daily you lift my spirits and motivate me so very much. The time you took to leave me a comment or a message made a difference in my life and I want to thank you so very much.
I will have more photos of our trip up soon...promise!
Many blessings and love to each of you - Reach high!!
Jen