Football Season-The Ultimate Challenge!
Tuesday, September 16, 2008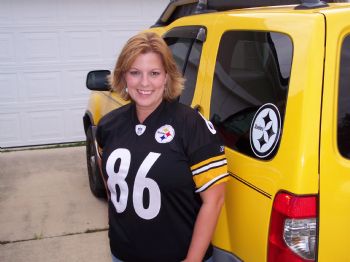 Football Sundays, Monday Night Football, The Pittsburgh Steelers! You could say I am addicted! I have a fantasy football team, I am a member of our local Steelers club-Jax Black and Gold, and I spend Sundays on the couch watching other teams duke it out. I love Peyton Manning, I think Philip Rivers is adorable, and I will surely marry Hines Ward if anything (God forbid) should ever happen to my husband!

The NFL started their pre-season in August, and since then I have become pretty lazy with my diet. But it's not like I am too depressed. Football is friends. It is food. It is memories of home. There is something comforting about being with 150 other fans at a bar and grill, or lounging on the couch in comfy pajamas on a Sunday, or watching your fantasy team kick the crap out of your husband's co-worker's team! It feels good to taste fresh baked pizza and nachos and wings while watching the game. I know how my diet will be sidetracked, and I know I won't reach my long-term goals very quickly in this frame of mind. But for now, I don't really care.
Life is so short, and I try to enjoy every minute of it. I can't picture myself eating carrot sticks and drinking protein drinks when football is on! I have improved my health dramatically by losing 10% of my starting weight. I am watching it closely to make sure I don't gain too much. If I go up a few pounds, I lower my calories for a few days to compensate for it. I am enjoying all the comforts of this time of year, even though it may completely contradict my long-term goals at this point. But at the very least, I plan on maintaining the loss I have achieved so far, and to recognize that there is less of me this year than there was last year! I plan on taking it slow and steady for the next year, and eventually I will be LESS of a person at that point! Haha!
Watch for me after football season!