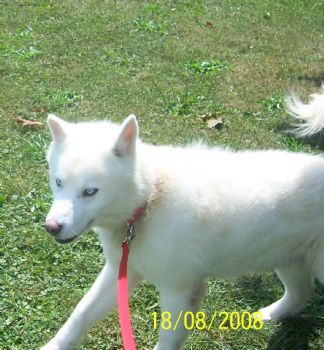 ON SATURDAY NIGHT I FELT LIKE I WAS GOING TO DROP FROM SHEER EXHAUSTION. MY HUSBAND CAME OUT AND GOT ME WHERE I WAS LYING BESIDE PHOENIX'S CRATE AND TOLD ME HE WOULD KEEP AND EYE ON HIM AND I NEEDED TO GO TO BED AND GET A GOOD NIGHT'S SLEEP. I WAS JUST TOO TIRED TO ARGUE AND I HAD KEPT VIGIL EVERY NIGHT SINCE THIS HAD BEGUN ALMOST EIGHT WEEKS AGO AND PROGRESS FOR PHOENIX SEEMED TO BE AT A STANDSTILL. HE HAD NO ENERGY NO PEP AND NO INTEREST IN ME OR ANYTHING AROUND HIM,,,,,,,,,,,,,,,,,,THE DOGS PLAYING AND SQUEAKING THEIR TOYS USE TO GET HIM ALL FIRED UP AND HE WOULD CRY AND WAG HIS TAIL AND PRACTICALLY BEG TO BE IN WITH THEM BUT THIS TIME AROUND HE WOULDNT EVEN WIGGLE HIS EARS TO PICK UP THE SOUND-HE WOULD JUST KEEP HIS HEAD LYING ON HIS PAWS AND CLOSE HIS EYES,,,,,,,,,,,,,,,,,,
ON SUNDAY MORNING I GOT UP FEELING A LITTLE GUILTY THAT I HAD SLEPT SO GOOD WHEN PHOENIX PROBABLY NEEDED ME,,,,,,,,,,,,I WENT DOWNSTAIRS AND INTO THE KITCHEN AND HIS CRATE WAS EMPTY.......
I LOOKED OUTSIDE AND MY HUSBAND WAS LEADING HIM AROUND IN THE YARD,,,,,,,,,,,,,,,,
WHEN PHOENIX CAME BACK IN HE STARTED INTO THE KITCHEN AND SPOTTED ME,,,,,,,,,,,,,,,,HE CAME RUNNING OVER TO ME AND JUMPED INTO MY ARMS ALMOST KNOCKING ME OVER,,,,,,,,,,,,,,HE WAS HAPPY AND ENERGETIC AND LIKE A DIFFERENT DOG........................
I SAT DOWN IN A CHAIR AND HE PUT HIS FRONT LEGS IN MY LAP AND PUT HIS FACE NEXT TO MY CHEEK AND JUST STOOD THERE WAGGING HIS TAIL,,,,,,,,,,,,,,,,,,,,,
LATER IN THE AFTERNOON I TOOK HIM OUT AND GOT THIS PICTURE OF HIM WHIRLING AROUND TRYING TO CATCH A BUTTERFLY AS IT FLUTTERED PAST HIS FACE..........................
FROM THIS POINT ON HE HAS MADE DAILY PROGRESS,,,,,,,,,,,,,,
HE HAS HIS SPRING BACK IN HIS STEP AND ONCE AGAIN IS READY TO TAKE ON THE WORLD ........HE GETS TIRED EASILY AND RESTS LIKE HE SHOULD BUT HE IS READY TO TAKE ON LIFE....................
THIS PAST THURSDAY NIGHT I TOOK THE BARRICADE DOWN THAT WAS BETWEENT THE KITCHEN AND THE DINING ROOM AND BUTTED THE BACK OF HIS CRATE UP AGAINST THE DOORWAY.............NOW HE CAN SIT AND OBSERVE THE REST OF THE PACK AND TALK TO THEM,,,,,,,,,SHADOW SPENDS ALOT OF TIME SITTING UP AGAINST THE CRATE ON THE OTHER SIDE OF PHOENIX..............WHEN HE GETS BORED AND GETS UP AND WALKS AWAY PHOENIX BARKS AND HOWLS AND WHIMPERS AS THOUGH HE IS TALKING TO SHADOW, SHADOW TURNS AROUND AND STOPS AND LOOKS AT HIM AND THEN SLOWLY LUMBERS BACK OVER AND ONCE AGAIN SITS DOWN AND KEEPS A VIGIL WITH PHOENIX.......................
..
HE GOES BACK TO THE VETS THE FIRST WEEK IN NOVEMBER TO GET HEART WORM TESTED AGAIN AND TO GET HIS X-RAY TO SEE IF THERE IS MAJOR DAMAGE TO HIS HEART AND LUNGS,,,,,,,,,,UNTIL THEN WE HAVE FOUR MORE WEEKS OF QUIET AND SOLITUDE AND THEN WE CAN SLOWLY INTRODUCE HIM INTO THE PACK.........
I HAVE KEPT THIS BLOG NOT JUST TO KEEP YOU ALL INFORMED ALTHOUGH THAT IS PART OF IT,,,,,,,,,,,,,PLEASE DONT LET WHAT PHOENIX WENT THROUGH DIE WITH THE HEART WORMS THAT ALMOST DESTROYED HIM,,,,,,,,,,,,,,,,,,,,
TELL ANYONE AND EVERY ONE HOW PHYSICALLY PAINFUL AND DEVASTATING THIS VERY PREVENTABLE DISEASE IS TO A DOG...............EVEN IF HE LIVES THROUGH THIS HE WILL NEVER BE AS HEALTHY AS A DOG WHO HAS NEVER HAD THIS,,,,,,,,,,,,,,,,,,,HEART WORMS SHORTEN A DOG'S LIFE IF THEY DONT KILL THEM AND THEY LEAVE LASTING SCARS ON THE HEART AND LUNGS........................
WITH A SMALL COST OF AROUND 6.25 A MONTH A DOG OF THIS SIZE CAN BE GIVEN HEART WORM PREVENTATIVE AND WILL NEVER HAVE TO GO THROUGH THIS PAIN AND POSSIBLE DEATH............ISNT EVERY DOGS LIVE WORTH AT LEAST 6 DOLLARS A MONTH?
I WAS AWARE THAT HEART WORMS USUALLY LED TO DEATH BUT I HAD NO IDEA OF HOW HEARTBREAKING IT IS TO WATCH A DOG HAVE TO BATTLE FOR HIS LIFE BECAUSE OF WORMS.............
IF PHOENIX'S STORY CAN SAVE JUST ONE DOG THEN I WILL FEEL LIKE HIS STRUGGLE HAS AT LEAST BEEN REWARDED,,,,,,,,,,,,,,
THERE IS NO REASON EVER TO NOT GIVE YOUR DOGS THE BASICS TO SUSTAIN THEM AND KEEP THEM HEALTHY AND ALIVE............THERE IS NEVER A GOOD REASON TO ABANDON THEM AND LEAVE THEM BEHIND TO STARVE AND DIE A SLOW PAINFUL DEATH JUST BECAUSE YOU LOSE YOUR HOME-NOT IN THIS DAY AND AGE WHEN THERE ARE RESCUE SHELTERS AVAILABLE IN EVER REGION OF THE UNITED STATES,,,,,,,,,,,,,,,,,,,,,PLE
ASE HELP ME SPREAD THE WORD THAT IN THIS COUNTRY WE DO NOT TOLERATE CHILD ABUSE OR NEGLECT AND SHOULD NEVER TOLERATE ANIMAL ABUSE AND NEGLECT. MY RELIGIOUS BELIEFS TELL ME THAT WE ARE TO TAKE CARE OF THE HELPLESS AND INNOCENT-THE WEAKER............THE BIBLE DOENST SPECIFY 2 LEGGED CREATURES ONLY-I BELIEVE IN GOD'S EYES HE SEES NO DIFFERENCE IN ABUSE WHETHER TO A HELPLESS CHILD OR A HELPLESS ANIMAL............I AM TRYING TO SAVE ONE SMALL DEFENSELESS DOG-THINK HOW MANY MORE ARE OUT THERE JUST AS ABANDONED, JUST AS HURT, JUST AS DESERVING AT LIFE AS PHOENIX IS......................WE HAVE GOT TO STOP TURNING A BLIND EYE TO THE SUFFERINGS OF THESE ANIMALS............WONT YOU PLEASE HELP ME?