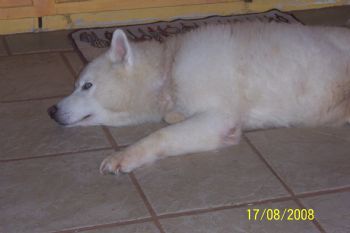 IT WAS ONE OF THE ROUGHEST NIGHTS I HAVE EVER HAD TO GO THROUGH.......................
.PHOENIX'S BREATHING WAS VERY FAST AND HARD AS THE EVENING OF THE 12TH INTO THE 13TH CAME ON.
IT TOOK ME BACK TO THE BEDSIDE VIGIL OF MY DAD'S WHEN WE WERE LOSING HIM TO CANCER AND MY SISTER AND BROTHER AND I SAT BY HIS BED 21 YEARS AGO AND FOUND OUR SELVES HOLDING OUR BREATHS WHEN HE WAS BREATHING SO LABORED AND FINALLY RELEASING THE OLD AIR OUT AND DRAWING NEW AIR IN WHEN OUR BELOVED DAD WOULD FINALLY EXHALE...............
PHOENIX SEEMED TO BE GOING INTO SHOCK OR JUST SEEMED TO BE ALMOST OUT OF HIS HEAD.............WAS IT THE PAIN MEDICATION THAT THE VET HAD ME GIVE TO HIM OR WAS IT THE POISON IN HIS SYSTEM THAT WHILE MUCH NEEDED TO KILL THE HEART WORMS THEMSELVES WAS SEEMING TO BE DESTROYING THIS SWEET BOY ALSO? AT ONE POINT HE SEEMED TO BE STRUGGLING TO BREATHE SO I SPOKE QUIETLY TO HIM AND COAXED HIM OUT OF THE CRATE TO GET HIM OUTSIDE FOR SOME FRESH AIR-HOPING TO REVIVE HIM A LITTLE,,,,,,,,,,,,
IT WAS ABOUT MIDNIGHT OR A LITTLE AFTER AND OUTSIDE OF RUNNING UPSTAIRS AND LEAVING A BLOG FOR ALL THOSE WHO HAVE PRAYED SO HARD FOR US, I HAD ONLY LEFT HIS SIDE LONG ENOUGH TO FEED THE OTHER THREE AND TO TAKE THEM OUT.
I GOT HIM OUT SIDE AND INSTEAD OF PHOENIX HAVING TO MARK HIS TERRITORY ON EVERYTHING HE JUST STOOD AND PEED RIGHT DOWN HIS LEGS-NOT EVEN ATTEMPTING TO LIFT A LEG OR TO STRETCH OUT LIKE HE ALWAYS HAD DONE........................
HE SEEMED CONFUSED AND ALMOST DAZED AND WANTED RIGHT BACK IN THE HOUSE SO I TOOK HIM BACK IN. I LEFT HIM WANDER BACK TO HIS CRATE WHILE I WAS LOCKING UP AND THEN I WENT OVER TO HIM AND HE WAS JUST STANDING HALF IN AND HALF OUT OF THE CRATE. I AGAIN SPOKE GENTLY AND SOFTLY TO HIM, TELLING HIM I NEEDED TO TAKE HIS COLLAR AND LEASH OFF SO HE COULD GET COMFORTABLE. HE JUST STOOD THERE AS I UNFASTENED HIS COLLAR AND ONCE I HAD RELEASED THE LATCH AND IT SPRANG FREE FROM AROUND HIS NECK I PATTED HIM AND TOLD HIM HE COULD GO LAY DOWN AND HE WHEELED AROUND AND SNAPPED AND SNARLED AT ME............................
.HIS EYES WERE ALL GLAZED AND GLASSY AND HE WASNT EVEN FOCUSED ON ME-DIDNT ACTUALLY EVEN SEEM TO KNOW I WAS THERE.........................
HE WALKED ON IN THE CRATE AND LAY DOWN AND I LATCHED IT AND LAYED DOWN WITH HIM...........................
.......
I DOZED ON AND OFF ALL NIGHT AND AWOKE AROUND DAWN - AROUND 5:30 AS PHOENIX WAS BEGINNING TO STIR.....................
I ASKED HIM IF HE NEEDED OUT AND I COULD HEAR HIS TAIL THUMPING-TELLING ME WE HAD AT LEAST MADE IT THROUGH THE WORST AS HE WAS BACK IN HIS RIGHT MIND..........................
.
FOR THE NEXT SEVERAL DAYS THERE WAS NO BIG IMPROVEMENT IN HIM.
PHOENIX WAS LETHARGIC AND DEPRESSED ACTING AND MOSTLY SLEPT, COMING OUT ONLY FOR MEALS AND TO GO OUTSIDE TO THE BATHROOM......................
...........
THE PICTURE ABOVE WAS ONE OF THE FEW TIMES HE ACTUALLY CAME OUT OF HIS CRATE AND LAY FOR A SHORT WHILE ON THE FLOOR BEFORE GOING BACK IN TO HIS BELOVED CRATE AND FALLING BACK ASLEEP......................
A COUPLE OF DAYS AFTER HE HAD COME HOME FROM THE VETS I NOTICED ONE MORNING HE HAD BLOOD RUNNING DOWN HIS LEG. IT IS HIS FRONT RIGHT LEG, ON WHAT I CONSIDER TO BE HIS "ELBOW", THE JOINT ON THE BACK OF THE FOUR LEGS WHERE THEY BEND.
I CHECKED HIS CRATE TO SEE IF HE COULD HAVE CAUGHT IT ON ANYTHING SHARP AND CAME UP WITH NOTHING................
I CALLED THE VETS WHEN THEY OPENED AND THEY TOLD ME THAT IS THE EQUIVELLANT TO US HAVING BED SORES FROM HIM LAYING SO MUCH AND IT IS A PRESSURE POINT FOR THEM WHEN THEY ARE DOWN FOR LONG PERIODS OF TIME SO I THEN HAD TO DOCTOR THAT...........
EACH MORNING WHEN I GOT UP AND EACH DAY WHEN I CAME HOME FROM WORK TO TAKE A LUNCH BREAK I HELD MY BREATH HOPING PHOENIX WOULD STILL BE ALIVE WHEN I GOT THERE,,,,,,,,,,,,,,,,,,,I WAS SO SCARED I WOULD COME HOME AND BE ALONE WHEN I FOUND HIM COLD AND STILL AND NOT BREATHING.....................
.....
IT SEEMED ONCE AGAIN HIS SPARK WAS GONE........................
HE STILL LOVED ME AND TRUSTED ME AS HE WOULD TRY TO WAG HIS TAIL WHEN I WOULD COME INTO THE ROOM BUT EACH AFTERNOON WHEN I ARRIVED HOME FROM WORK AND AFTER TAKING CARE OF THE OTHER THREE'S NEEDS, THE REST OF THE EVENING UNTIL 10:30 OR 11 PM I WOULD OPEN PHOENIX'S CRATE AND WOULD WAIT FOR HIM TO COME OUT LIKE HE DID AFTER THE FIRST TREATMENT AND WE WOULD LAY AND CUDDLE ON THE FLOOR ON MATS UNTIL I WOULD HAVE TO GO GET READY FOR BED; BUT THIS TIME PNOENIX WOULD COME OUT AND SPEND MAYBE 5-10 MINUTES WITH ME AND THEN GO BACK IN HIS CRATE AND STAY THERE UNTIL MORNING.....................
WAS THE BACK TO BACK TREATMENTS TO HARD ON HIM?