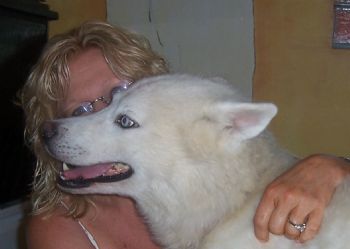 Phoenix is not doing good at all - I called the vet this morning and they told me he was doing great~to call back in the afternoon and they might let him come home.......
I called around 3 and they told me he could go home but Dr Kirsten wanted to talk to me when I got there. I left work early and got to the vets at about 4:30/ Dr Kirsten told me that she understood that I had some questions and she would try her best to answer them. This is what I learned:
For the next 6 weeks I have to keep Phoenix very quiet and calm.................After the 6 weeks is up I am to gradually begin to let him have more activity-I can slowly introduce him to the rest of the pack-and allow them to play or be around each other for 10-15 minutes and then put him back alone to rest so physically and emotionally the stress level stays down on him.......................
For the rest of his life, while he can have fun-no heart murmurs have been detected so far and the Dr said that is a very good sign-he will need to be treated as though he were a child with asthma......................Be
ing careful of the heat, the heavy air, not too much exercise-walks will be fine but no grand hikes or running long distances with him-no sled pulling etc.
He is scheduled for a heart worm test on nov 5th and at that time they will be taking an x-ray of his heart and lungs...........While this will let us know if there is major or extensive damage it will not pick up if there is some or minimal damage and she said we may want to take him to worthington to Med Vets (the hospital that diagnosed Shadow's PRA and Kasa's severe food allergy) for an ultrasound as any damage at all would show up on that.........................
Dr Kirsten did tell me we are not out of the woods yet but each step we take is that much closer to saving his life..........................
..
When I asked her about a neutering up ahead she told me that it is too early to plan for that just yet-but at the earliest if all goes well possibly around the holidays or the new year............
Phoenix came out to meet me with a bounce in his step and a smile on his face........His tail began to wag when he saw me and he kissed me right away..................
The last thing Dr Kirsten warned me about was not to be too worried or afraid that for the next day or two he will feel really punk-but he looked so much better than the last time that I thought okay I can handle it...........Boy I am so wrong! I am scared to death-he looks awful and acts almost like he is "out of it" so I am worried about shock and the whole works.
As this evening has worn on he has gotten worse. Ii am going to stay with him and try to ride it out..........This will be one of the longest nights of my life.....................