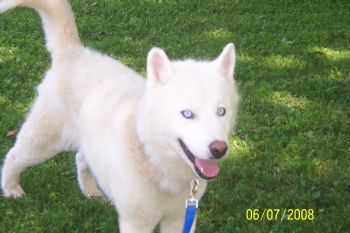 Monday morning -August 11th.............a day I have been longing for and yet one that has me very anxious and worried.........
Phoenix was in grand spirits as he watched me packing his bowls and his three favorite toys in his bag to go back to the vets for a couple of nights stay so they can begin the back to back heart worm (hopefully final) treatment.....................
.
He kept going over to the bag and taking a toy out and putting it back in his crate and then turning around and looking at me with that sibe smile on his face to see if I had caught him "stealing his toys".
When it was time to leave I put his collar and leash on him and picked up his bag. He went right to the car and although it took some coaxing he did finally jump into the car all by himself,,,,,,,,,,,,,,,
This time instead of facing backwards the whole time he sat in the back seat alternating between playing with a toy and putting his head over the seat and resting it on my shoulder,,,,,,
As we got out at the vets I took him to the back and allowed him to relieve himself and then took him inside...................
I spoke to the two little tech's and then walked Phoenix over to the scale and told him "let's see if you have gained any on all this food you are eating for me".
Phoenix climbed right on and the scale registered at 47 pounds.....
He had started out at around 41 pounds~~~~~~
The vet came out and we all talked about the amazing change in Phoenix (physically and emotionally) I told them it is amazing what some food and a lot of TLC can do for dogs....................
By this time Phoenix was playing on the furniture and having a good time so I kissed him good bye and told him I loved him,,,,,,,,,,
This time he gave me a look telling me he KNOWS I will be back for him...........
I left him feeling better about this whole thing since it has started.................
I called around noon and was told they had administered his first treatment after I left and Phoenix was doing great,,,,,,,,,,,,,,,,,,,,,,,,,
The vet had personally taken him out side when I called and was taking good care of him.....
I called back right at closing time and he was still doing fine,,,,,,,,,,,,,Had barked and howled quite a bit earlier but had finally settled down and was resting quietly.......................
..
Will give more of an update as I get them....................