California bans trans fats in restaurants
Wednesday, August 06, 2008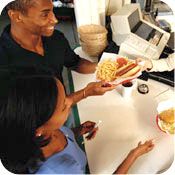 This story has been in the news a lot recently, and I've seen some discussion about it on the Message Boards. So I thought we could get a conversation going about it here!
A few weeks ago, California passed legislation that bans restaurants and other retail food establishments from using oil, margarine and shorting containing trans fats in the foods they sell. Although there are some other cities in the U.S. that have similar laws, this is the first state-wide legislation of its kind.
Although it will be a few years before the law takes effect, many restaurants have already been phasing out trans fats to satisfy their customers.
What are trans fats and why are they such a big deal? Trans fats are oils that have been chemically-altered (through a process called hydrogenation) from their original liquid states, into solid shortening. The process increases the shelf life of the oil and improves the texture of the food to which the oil is added. However, trans fats increase your risk of heart disease, clogging arteries and lowering your good cholesterol. You can read more about them here:
Translating those Trans Fats
So what do you think? Is it the job of individual states to be making these kinds of laws, or should regulations be coming from somewhere like the Food and Drug Administration? Is it the job of government to decide what we should and shouldn't be eating?
Let me know your thoughts!
www.msnbc.msn.com/id/258
53307/