Fitness protects brain in Alzheimer's patients
Wednesday, July 30, 2008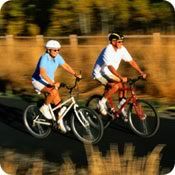 Need yet another reason to be physically active? Here's one: A new study shows that people in the early stages of Alzheimer's disease who are more physically fit, had less shrinkage in areas of the brain that are important for memory.
Previous studies have shown that exercise slows age-related changes in the brain for healthy people. But this study shows that even people who are already in the early stages of Alzheimer's can still benefit from regular exercise. It's never too late to start!
This study is the first to show that specifically, changes occur in the memory region of the brain when someone becomes more fit.
Here's another study that reinforces the benefits of exercise for your mind:
Exercise Keeps Your Mind Sharp
You'll also find a lot more information about overall senior health in our
Senior Health Lifestyle Center
.
www.revolutionhealth.com
/news/?id=reut-20080728eli
n008