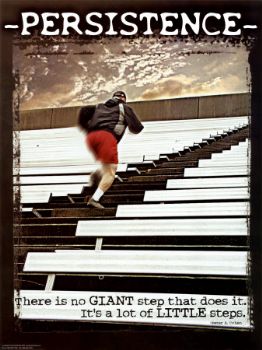 For months now I have been posting my workout results at the end of my sparkpage. Today I noticed just how long my page has become so I have decided to log my results daily in a blog.
I only have 29 days left until our vacation and I know all my hard work will be worth it! I have to stay strong and finish this race I am running!
"Champions aren't made in gyms. Champions are made from something they have deep inside them-a desire, a dream, a vision. They have to have last-minute stamina, they have to be a little faster, they have to have the skill and the will. But the will must be stronger than the skill." Mohammed Ali
Workout 1 - 30 day shred dvd - levels 1, 2 and 3! Replaced some cardio segments and core circuits with 30 mins of treadmill running and one walking interval with 6.6 lb. dumbbells with shoulder raises, bicep curls and boxing drills with walking. Also I did extra push ups during the cool down segments and core segments. My weights for all 3 levels of the shred where 11 lb. and 6.6 lb. dumbbells.
Total time - 82.32 mins
Calories burned - 710
HR - Avg. - 71%, Zone 3, Max - 85% Zone 4
Pushups - 110
Standard - 30 reps
Diamond - 20 reps
Dive bombers - 20 reps - PR - personal record!
Inch worm/walking push ups - 20 reps
Traveling push ups - 20 reps
Fitness note - Today was my first time to try doing all 3 levels in one day. I really liked the challenge! I also liked replacing some of the cardio segments with treadmill intervals and extra push ups. This is definitely something I will be doing again. For my running half way through I put on my turbo jam weighted gloves and really enjoyed the extra intensity it gave me during my run. Overall, my intensity was lower today as my leg is still hurting a bit, but I still worked hard and got a great burn out of it!
Workout 2 - Butts and Guts dvd - warmup followed by floor glut work with ankle weights and core work.
Total time - 39.42
Calories burned - 140
HR - Avg. 51% Zone 1, Max 66% Zone 2
Crunches - 110 crunches, situps, v-ups and oblique work with 11 lb dumbbell. 70 reps with no weight. Total for the day - 180
Fitness note - I just love this dvd. Always a favorite of mine. The floor and core work does not burn as many calories as the standing work but what a wonderful challenge it is, especially with the ankle weights.
Totals for the day -
Total time - 121.74
Calories burned - 850
Caloric deficit - 650.
Daily note - I feel really good....and hungry..LOL!