Turn off TV during meals or kids may get fat
Wednesday, July 16, 2008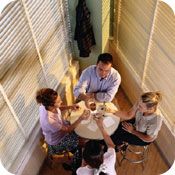 You've probably heard this suggestion on our site before, but here's a new study that reinforces the idea: Watching TV during mealtime can lead to overeating. This study demonstrates that it not only applies to adults, but to our kids as well.
A study from the University of Toronto found that kids who watched TV while eating lunch took in 228 calories more than those who ate without the television on.
Why would this be? One theory is that eating while watching TV overrides our ability to know when to stop eating. Think about it- you get engrossed in your favorite show, and by the end of the hour you realize you've eaten a whole bag of chips when you meant to eat only a handful. TV distracts us from paying attention to how much we've consumed and when we're full.
So turn the TV off during meals- for you and your kids! Spend this time catching up on the day's events, sharing stories and finding out what's going on in your families lives. If you live alone, it's a great time to quietly unwind after a busy day.
Here are some articles related to this topic:
Tune-In to a Healthier You
Help Your Loved Ones Stay Healthy
www.reuters.com/article/
healthNews/idUSPER95653920
080709?feedType=RSS&feedNa
me=healthNews