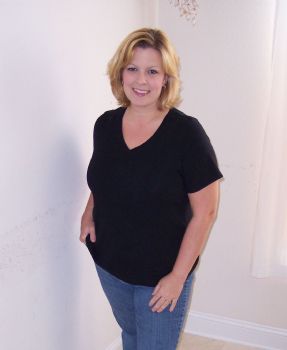 This is my first blog on Spark People. I write blogs all the time on myspace, so if you want to know more about me, go there...
www.myspace.com/ljheath73
Today I want to share my souce of motivation, simply because it makes me feel better. His name is Keith.
NO, he is not my husband. Far from it. Keith lived with me and my husband (Joe) in 1994. We were young, I was newly married, and Keith was my best friend. We lived together for 6 months, then Joe got out of the Navy and we moved back to PA.
I lost contact with Keith for over 5 years, then we got back in touch. We talked a few times, then I came back to Florida for a family vacation, and we re-connected! After more time had passed, (and after some prompting on my part) he confided in me that he was gay. Somehow I knew it, but it didn't change the strong feelings I had for him. (Considering that Joe once thought we were having an affair, it was a relief that he finally revealed this fact!)
Keith and I worked together in an arcade. (Hey, I was young, and I got to operate the carousel!) Once, we went in to play on our day off, and I drove. When we got there, I tried to "scare" another guy(Jim) who we worked with... so I stepped up onto the platform of a video game and jumped down in front of him to surprise him. Well, I surprised myself when I twisted my foot, fell to the floor, and tore ligaments in my ankle! Keith and Jim carried me to my car so I could go to the hospital... but my car was a manual, and I couldn't work the clutch with my injured foot! Keith had NEVER driven a stick, and my husband was working. So Keith did what he had to do, and dutifully and patiently learned how to drive my car in five minutes!
One great ongoing memories is an inside joke we've carried through the years... We had poker nights every weekend with our co-workers. At one point during a round of 7-card stud, he picked up that I was bluffing my hand. So he addressed someone that his favorite animal was the Great White Bluff-alo and blew my cover! So I threw a soda on him! This was one of those young, drunk, silly moments where we just couldn't stop laughing! So now we often subtly refer to the Great White Bluff-alo in our blogs!
But one of the BEST memories I have of Keith is when he flew from Florida to my hometown of Altoona, PA to go see Train in concert with me. The whole trip was planned based on my *intuition* that we would meet the band in person. We both loved Pat Monahan (although I CLAIMED HIM FIRST!) and we were dying to take my 4-yr-old daughter, who knew every word to every Train song! With my daughter Mackenzie on my shoulders in the front row, we caught the eye of the band and the manager gave us backstage passes! They said they have NEVER seen a child sing all the words like Mackenzie did! Jimmy (lead guitar) was smiling at her and singing to her all night! It was an amazing night, and I got to share it with my best friend! I have no doubt that Keith will trust my intuition again! (I'll post pictures on here soon.)
Anyway... Keith has been my biggest support through my weight loss. He started losing in December... slowly, with the help of Weight Watchers. That's when I decided I had a choice to change my life. It took me until January to finally start, but I haven't looked back yet! When I have problems staying on track or wondering why I am putting so much effort into this, Keith is my ROCK. He stays firm. He validates me. He tells me what I am feeling, but maybe I couldn't quite put it into words. He is articuate and insightful and strong. Sometimes I secretly wish my husband was just as willing to talk and reason and rationalize my efforts as Keith is.
I look forward to every word that comes out of Keith's mouth... er, um, I mean... keyboard! ha! Did I mention he lives in SAN ANTONIO? I finally move back to Florida after 10 years away, and he moves to Texas! Dammit. And I don't think he will be back. But through every failure or success, I know I will always be able to look to him for advice and validation. I will always consider him my best friend and my biggest source of inspiration!