Thanks mom!
Tuesday, June 10, 2008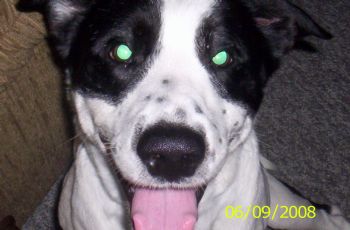 Ok so I thought I was alone. turns out I was wrong. Even Joe is trying in his own weird way to help me. He knows how lonely I get walking on my own, so he bought me an MP3 player. It is nice to listen to the music, but I actually prefer the clarity of mind that I get thinking about whatever I want to no matter how silly it is. So that didn't work. Instead, this weekend he bought me (HIMSELF!!!!) a dog to go for walks with me. He is from the humane society and is the calmest most well behaved dog. Amazingly enough, I don't have to walk alone, the kids even want to walk with me now instead of playing on the playground.
Mom... his name is Snoopy. Go figure
And mom, you are absolutely right. I am not one to give up. And I won't. I got back on the scale this morning and I have lost all that I gained plus 1/2 pound more. So I am getting there. I still think that it is the shoes and maybe next paycheck I will buy different ones.
I love you and thank you for yelling at me. I will try harder to stay on track and see where this will take me......