05/05/08: You become successful by helping others become successful.
Tuesday, May 06, 2008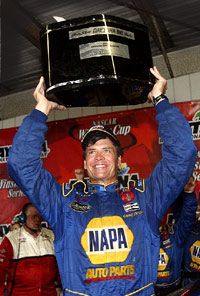 This picture is of a man who became successful because another man helped him. He now owns his own race car team (4/5) and is on the verge of winning more races!
Passing it forward is another form of passing on success. My favorite has always been the Golden Rule "Do Unto others as you would have them do unto you."
Being a good, honest person pays in the end. The U.S. needs more people to stand up and say this is who we are - good honest people and this is what we believe in!!
Bottom line - if you pass on your knowledge to another it will spread , like a spark until a fire is roaring across the minds of many. The funny part of the proces is you might never know about that little spark and the fire it started. Like George Bailey in "It's a Wonderful LIfe" who gets to see life without him ever in it. A tiny pebble in the big pond.
[If you haven't seen the movie - go borrow or rent it - it has angels, a good cry and lots of smiles. ]
I hope everyone gets to hear or see what their spark did for someone else!