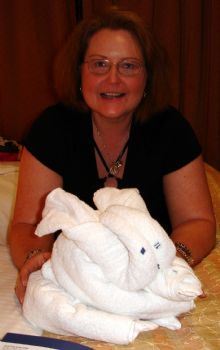 Hi everyone! I'm back and I brought this picture for you to see. Our room steward made us a different animal every night. A bunny, dog, elephant and a snake. This one is a bunny!
The Carnival Imagination was so much fun and the food was excellent. I really like these old, smaller ships as they are so easy to find your way around. Our table mates were so much fun too, we were like a small family by the end of the trip. Laughed and shared our adventures over dinner and throughout the day when we would meet elsewhere on the ship.
Had a blast in Grand Cayman. Went on the Seaworld Explorer, a semi submersible, and saw the ship wrecks and fish around the waters of the island without getting wet! Of course we went shopping too!
Jamaica brought us to Dunn's River Falls. What a beautiful waterfall and surrounding area. We watched as others climbed the falls and took lots of pictures. We had climbed the last time we went and from the side view we got better pictures. I got corn rows(braids) and two extensions with beads in my hair with Jamaican colors, red, yellow, and green. No, there won't be any pictures on my Sparkpage mon. I can't wait to get them out and scrub my head, it is getting so itchy, even though I have washed them many times!
Went to the spa almost daily for some sort of treatment or massage. This was a girls week at the spa. Had a seaweed wrap and head to toe massage for two hours. Had a massage with a facial, and then had a hot stone massage for 75 mins. Oh man was I spoiled!
Had to get on the scale when we got home and I've gained 15 pounds! All I can hope for is that a lot of it is water weight cause I can't get my rings off and my bracelets are tight! But I can see where I did eat 10,500 calories a day with what we ate! The food was awesome, and I had no willpower to say no! I am glad to be home though as I didn't sleep well at all and went all day from 7AM until 2-3AM in the casino every night.
So, I'm back and ready to get going again on Sunday. I am committing to getting down to goal by the end of next year! This was certainly a great break, one I'm sure I needed badly!
Thanks for another great week! I have missed you all so much!