2/24/08 It's A Long Road
Sunday, February 24, 2008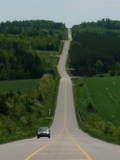 My journey is a long road and most of it seems dauntingly uphill right now. After my "gamble" and eating the house down last week, I weighed in at +0.8 pounds up this week. That isn't so bad considering the insatiable appetite I had. I'm leaving for my cruise next Saturday and I know the food will be bountiful. But.... I'm still here and will be. I will never ever give up!
I know my road has been mostly uphill, but I wouldn't trade this journey for anything in the world, cause I'm worth it!
I'm so glad I met all of you along the way!
Thanks for another great week!